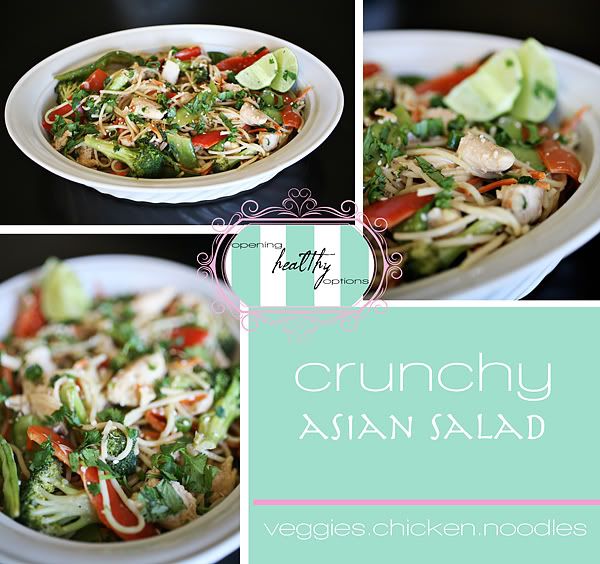 Ingredients:
Kosher salt
1/2 pound thin whole wheat spaghetti
1 pound sugar snap peas
1 head broccoli
1 cup shredded carrots

2 tablespoons vegetable oil
1/4 cup rice wine vinegar
1/3 cup soy sauce
3 tablespoons water

1 tablespoons dark sesame oil
1 tablespoon honey
2 garlic cloves, minced
1 teaspoon grated fresh ginger
3 tablespoons toasted white sesame seeds, divided
1/2 cup low fat smooth peanut butter
2 red bell peppers, cored and seeded, and thinly sliced
4 scallions (with and green parts), sliced diagonally
3 tablespoons chopped fresh cilantro
4 boneless skinless chicken breasts
2 Limes


Directions:
Bring a large pot of salted water to a boil. Add the spaghetti and cook according to package directions. Drain and set aside.

Brown chicken breasts in a medium size skillet.

Add all the vegetables, and cook for 5 to 10 minutes, until crisp tender.


For the dressing, whisk together the vegetable oil, rice wine vinegar, soy sauce, sesame oil, water, honey, garlic, ginger, 2 tablespoons sesame seeds and peanut butter in a medium bowl.
Combine the spaghetti with the chicken and vegetables and scallions in a large bowl. Pour the dressing over the spaghetti mixture. Add the remaining 1 tablespoon of sesame seeds and the cilantro and toss together. Squeeze lime over and enjoy!